Best Hotels with Spas in Vung Bau
Our top picks
Lowest price first
Nearest to
Best reviewed
See all
Fusion Resort Phu Quoc - All Spa Inclusive
Vung Bau,Vung Bau - View on map
Bicycle rental
Valet parking
Complimentary WIFi in all rooms
Front desk [24-hour]
Swimming pool [indoor]
Kids club
Check-in/out [express]
BBQ facilities
"What a great resort. The rooms are amazing, the spa is incredible and the staff are awesome. The setting is pure bliss and the hardest choices for you have to make is wether to lie by the pool or the beach. The only issue (very minor) is the range of food and the price. Breakfast however is brilliant. It's still a new resort and as such is relatively quiet so get in before it becomes too crowded. It's true when people say they didn't want to leave because that is exactly how we felt. All round amazing and one of the best places we have ever stayed. "
Show more
Avg price per night
$ 828
See all
Bamboo Cottages
Vung Bau,Vung Bau - View on map
Transport to airport
Bicycle rental
Pets allowed
Car park
Golf course [on-site]
Sauna
Shuttle service
Complimentary WIFi in all rooms
"This is probably one of the best locations on Phu Quoc and the setting with restaurant between trees and palms right by the beach is really something. Locations is 5 stars. Hotel is 2+. Our stay had a lot of minor flaws: - Little plastic pieces in one dish. - order mix ups at breakfast. - a leaking water tank on the roof, leaking a lot of water into our room - we reported this and a guy went to roof, crossing our no roof bathroom without warning, almost catching me with my pants down, literally. - Two lamps were dysfunctional. We reported it, and had to remind them to return them. These things can happen to anyone, it's just not dealt with very well. No apology, no making it up to us. Other places might have offered a free drink or even upgrade to a better room. One hotel upgrade us because the key didn't work for 5 minutes. The general staff is very nice and friendly, but the management seems inexperienced and not fully competent, although very trying. Also when you book a room they are very eager to get you to also book their transport to/from the airport. This is 30$ one way and apparently without profit. We got a metered cap at the airport, it was 25$. When leaving the kept asking about arranging transport. It was 22$ to town. We asked them to call a cap - they responded with an odd look. It was only 13$!?! A nice tip is to visit the near by Vung Bau resort, They have excellent food and their Lime juice is 15.000 not 45.000 dong and is not filled with ice. 5.000 extra if you don't want ice at Bamboo Cottage! The free kayaks are a huge plus and we received some helpful information as well. Bamboo Cottage seems to be one of the best options there is but it's far from perfect. Minor improvements could make for a better experience. "
Show more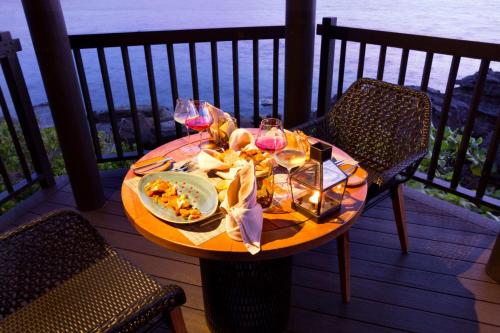 See all
Nam Nghi Coral Peninsula Phu Quoc
Vung Bau,Vung Bau - View on map
Transport to airport
Valet parking
Shuttle service
Complimentary WIFi in all rooms
Kids club
Golf course [on-site]
Bicycles
Front desk [24-hour]
"Nam Nghi is a brandnew five star resort located on a penisula in the north-west Phu Quoc. It features beach villas where you can enjoy both the sunrise and the sunset. The minibar is richly filled with soft drinks, chocolate, French wine, whiskey and Remy Martin, etc. It's also worth mentioning that the TV system not only includes HD cable TV channels, but also on-demand categorized HD Bluray movies which is something none of the other five-star hotels can offer in Phu Quoc. The pool area is ideally placed just in front of the private beach area and offers comfortable sunbeds and a pool bar. Opposite the penisula, only some 200 metres away, you will find an exclusive, beautiful small island with another private beach and a restaurant which is currently under construction. We would love to experience a dinner there once it's finished. The staff is service-minded and will make sure you'll get a pleasant stay and the uttermost of your vacation. This is the place to go whether you want a few days break from some work in Vietnam (like in my case) or you are going for some regular vacation. The resort has done an excellent job in preserving the original nature which gives an extra touch to the overall experience compared to other five star resorts on the island. The beaches in Phu Quoc are not like in Maldives or French Polynesia, but if you've already been at those resorts a number of times, Nam Nghi is the place to go for a divine excursion into the best of what Phu Quoc has to offer."
Show more
Avg price per night
$ 209
Discover the neighborhoods of Vung Bau
---