Hotels with indoor pool in Gili Meno
Our top picks
Lowest price first
Nearest to
Best reviewed
See all
MAHAMAYA Resort Gili Meno
Gili Meno,Gili Meno - View on map
"We spent almost 3 weeks in Bali and Lombok, and our trip to Mahamaya on Gili Meno was the highlight for us for sure. The rooms were super clean, comfortable and a good size. The price included free bikes, snorkeling gear and kayaks, and an la carte breakfast was plentyful, and there was a buffet of fruit, yogurt, and Indonesian food if the a la carte menu did not satisfy your hunger. The restaurant is located in front of the hotel right on the beach, and has the most spectacular, unobstructed view for sunset drinks and dinner. The food was at an extremely high level, and among the best that we had during our 3 week trip. There are two pools located behind the hotel, in the courtyard surround by rooms. A great spot to relax under an umbrella in the shade. The staff went above and beyond, and I mean all the staff, from reception, to restaurant staff, to housekeeping. Everyone in the hotel addressed us by our names, and the whole experience was personal. This kind of attention to detail is what puts Mahamaya above and beyond the other boutique hotels in Gili Meno which we visited for food. We had 3 short nights here, and our only regret is that we didnt stay longer. We were worried we would get bored on the island, but the beach and hotel lends itself to relaxing, with the option of grabbing a bike, kayak or snorkeling equipment to explore both on and off land. There is a small coral reef only meters from the beach and hotel which and non-confident swimmer can access. The water is crystal clear and you can even stand quite far out for those who are not confident in the water. As you can see, we enjoyed ourselves. "
Show more
Avg price per night
$ 144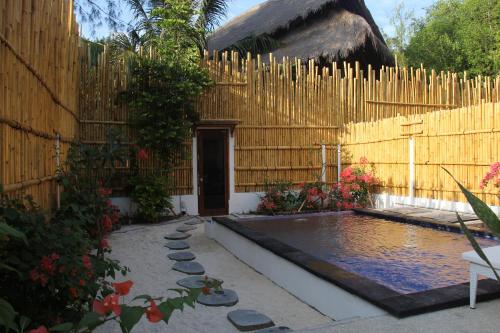 See all
Seri Resort Gili Meno
Gili Meno,Gili Meno - View on map
"We stayed at Seri for four nights. We walked around all of Gili Meno and Seri Resort is by far the best resort on the island. Even more, it might be one of the best resorts in the Gilis. Here's why: 1. The staff. Good customer service is the key to enjoying a resort and the staff here were beyond friendly; they were attentive. I lost my sandals, they saw I was looking for something, asked me, and found them for me. They learned our names by the second day. Every request was fulfilled. 2. The food is great. Seri has a relatively distinct menu. The menus of other places on the island are all the same (pastas, burgers, fried rice, pancakes, and sandwiches). Seri offers amazing snapper fish tacos for 60k, GREAT mahi mahi for 90k, really good quesadillas, and a handful of good options for the included breakfast. 3. The facility is beautiful. By a mile, Seri has the most beautiful building on the island. It is beach front and at night it is lit up and quite stunning. The three floors of porches and fans resemble a creole style architecture. The $30-40 a night backpacker beds are peaceful, comfortable, and come with spacious lockers. They provide daily bottled water and a jug and ladle by the bed to wash the sand off your feet before climbing into bed! We had no problems with Mosquitos. The more expensive villas looked beautiful and had great patios with big daybeds. Bed was great! 4. Location: The beach is beautiful. It is close to several restaurants, should you decide to eat off the resort. It is also a 10-15 minute walk from the Blue Marlin dive shop. They offer $35 dives!!! And $45 night dives. I swam with six huge sea turtles in a single dive. Great staff there too. 5. Atmosphere. I don't think they even offer two bedroom villas, so they are really encouraging couples. No babies crying and the youngest kid was a teenager. This is a peaceful resort, keep that in mind! Not a party hotel! Really, Gili Meno isn't for partying, that's Gili T Hope this helps! "
Show more
See all
Vila kinagu
Gili Meno,Gili Meno - View on map
"Great villa with awesome pool and very good daily breakfast! Rooms are very spacious and modern and cleaned everyday.Location is central.. 2 minutes walk to the beach . 15 min walk to the northern sunset beaches (but can't swim/snorkel on low tide )which have the best and affordable restaurants . Southern beaches which are around 15 mins walk and have Arguably the better beaches which ya can swim and snorkel on both tides but restaurants are more pricey in that location "
Show more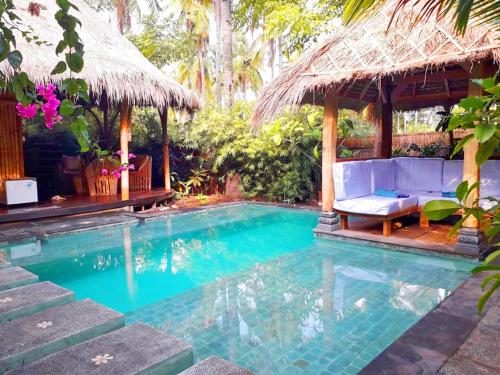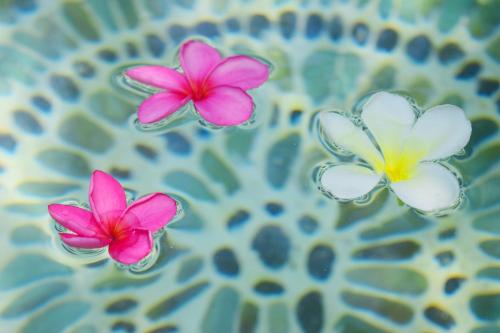 See all
Meno Island Villas
Gili Meno,Gili Meno - View on map
"We had a nice time at this accommodation."
See all
Les Villas Ottalia Gili Meno
Gili Meno,Gili Meno - View on map
"Wonderful hotel in Gili Meno. Lovely swimming pool and garden in front of our villa. Good service was provided by every staff. The hotel is in the middle of the island, if you don't have a horse-drawn cart ride, it would be a hard work to hotel.(hotel provide free bikes, but you have to reach there first from ferry port). Final comment: breakfast can do better."
Show more
See all
See all
AVIA Villa Resort
Gili Meno,Gili Meno - View on map
"Absolutely loved the private pool villa at Avia, and the beach out front is amazing, with a beautiful sunset view and swimmable ocean. The staff are amazingly friendly, and the food is great. Probably one of the best places to stay in Gili Meno considering the location, service, food and value. Hotel made the stay feel like a honeymoon. Loved it!"
Show more
Discover the neighborhoods of Gili Meno
---