10 best hotels near S&R New York Style Pizza
Our top picks
Lowest price first
Nearest to
Best reviewed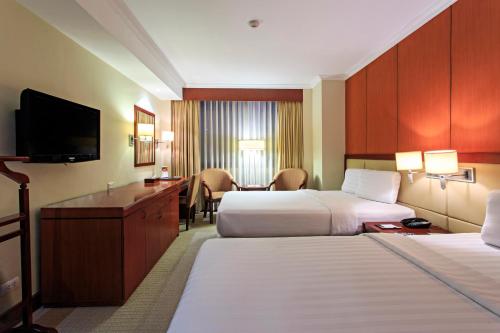 See all
Cebu Parklane International Hotel
Cebu City,S&R New York Style Pizza - View on map
"This hotel is easily the match in most areas to other area hotels which charge much more. And two things stand out as better: service and the gym. The service is exceptional, the best I have received in the Philippines. And the gym is simply the best I have seen at any business hotel. I lift free weights, and I am tired of hotels offering at maximum, a 50 pound dumbbell. The Parklane's gym has true free weights, dumbbells and barbells. To make it even better, they have an attentive staff which is on hand to spot, discuss techniques, and train those new to fitness. The Parklane will always be my hotel of choice when I am in Cebu."
Show more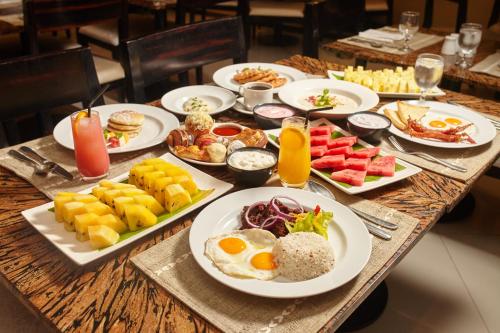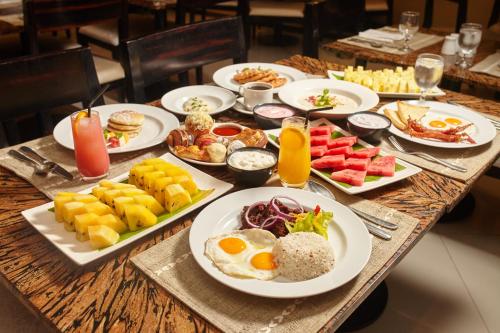 See all
Quest Hotel and Conference Center Cebu
Cebu City,S&R New York Style Pizza - View on map
"I originally planned on staying at the Quest hotel for a week, but ended up staying a month. Value For Money When I was here in May-June 2012 the value for money was incredible. I paid around US per night without breakfast. By comparison, the Cebu Marriott, was running around US per night – a little over twice the price, and I imagine no better quality. I looked at half a dozen hotels in Cebu before settling on Quest. Other hotels in Cebu running in the $50 - $60 range don't even come close in terms of quality. And my high expectations were met after I moved in. Location The location is great, right across the street from the Ayala Mall, which is the most upscale mall in Cebu. Ayala a good place to hang out with plenty of restaurants and coffee shops with fast Internet connections. (Unfortunately, like most hotels the Internet connection at Quest is a slower than I would like for my work.) Quality The hotel is brand new. When I first arrived they were still finishing outfitting the upper floors. It is impeccably clean and everything is brand new. The rooms are well designed, and the hotel has a clean, spacious feel to it. Despite being near a busy road, I heard almost no noise from outside and always slept soundly. Food The Philippines are not renowned for the food. I haven't had a meal here that impressed me. Having said that, the food in the hotel is the best I have had in the Philippines. It's the same standard as you'd expect of hotel food in a US hotel that knows how to do food well. Not just a generic menu designed to serve the lowest common denominator, but actually a good menu with really good food. (They do have all the regulars like steak and burgers, but they do it well.) Friendly Staff The staff have been consistently friendly and helpful. I feel welcomed every time I enter the hotel at whatever time of day or night. "
Show more
See all
Waterfront Cebu City Hotel and Casino - Multi Use Hotel
Cebu City,S&R New York Style Pizza - View on map
"The Waterfront- Lahug may not be the Shangri-la Resort on Mactan Island, but the hotel is a comfortable place to stay with all the conveniences. Having stayed at this hotel at least 12 times in the past in the last 5 years I would rate the food excellent and on par with most 5 stars hotels found in the Philippines. The City Gym located on the swimming pool level is great for the exercise enthusiast with every type of cardio, weight reduction and free weight equipment you could desire. The food througout the hotel is very good to include the breakfast that is normally included with the room which is served at their Uno restaurant on the lobby level. In addition to the Uno buffet restaurant their is a Japanese, Chinese, Italian and seafood restaurant within the hotel on restaurant row. I normally eat the Uno resturant which serves a buffet for all the htree meals with s good selection of western and asian foods. Overall I would say the Waterfront-Lahug is a good deal for the price especially if you can book it through Agoda."
Show more
Avg price per night
$ 111
See all
Harolds Evotel
Cebu City,S&R New York Style Pizza - View on map
"I stayed here for 1 month, so I got to know this place well. The internet connection here was the biggest draw for me as my work requires it. Other hotels near this class are at least twice the price in Cebu and older. When the internet was working, I would get speeds between 20-300 kilobytes/s (bytes, not bits). They were having difficulties with their ISP while I was there at the end of my stay though, so I changed hotels. Wired connections in all the rooms, wifi only available in the lobby downstairs. Harolds is a lovely lovely place. Brand new, so new in fact that they had to make me a custom "do not disturb" door hanger because they didn't yet have them made. The rooms are luxurious, 5-star level given their condition. Bed was gorgeous and comfortable. Harolds is a business hotel - no pool, very few kids. Perfect for me. Restaurant is ok. Expensive. Right down the street is Handuraw, which came to be my favorite place to eat. Wonderful pizza there and amazingly cheap prices. Ayala mall is within walking distance, although you can take a cab or a jeep too and they have tons of food options as well as shopping. SM mall is very close as well. Harolds staff is extremely nice. All of them knew my name within a day or so and I had not introduced myself. All very professional and helpful. They will make up your room pretty much any time of the day, so if you're on an odd sleep schedule, don't worry. I've never had better cleaning staff. They organized all my bathroom stuff and everything I threw around the room and on the desk. I always came back to a perfect looking room. Do your laundry around the corner, not at Lavada Queen (expensive), but the place on the opposite side of Escario street (I don't recall the name, sorry). If I come back to Cebu and the rate is still this good, I'll definitely come here again."
Show more
See all
Seda Ayala Center Cebu Multiple-Use Hotel
Cebu City,S&R New York Style Pizza - View on map
"Staff is on top of their game. Location for shopping, eating and just stay at the hotel is great. Stayed a few 4 and 5 star hotels in Cedu, One of the best for the money. Their HD TV is best I've seen in town. Will come again"
Show more
Avg price per night
$ 113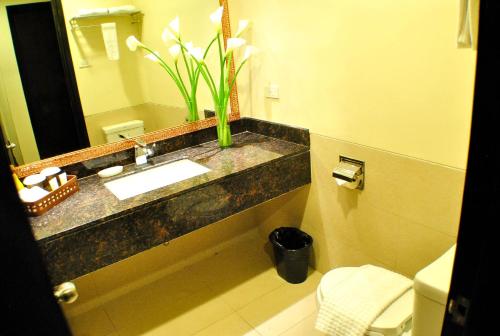 See all
Hotel Elizabeth Cebu
Cebu City,S&R New York Style Pizza - View on map
"Staffs r well trained to answer any queries and all the staffs r very polite n gives u r pleasant stay. Breakfast is really gd n theres variety to choose from. The chef is fantastic n he really obliged to my special orders. Location is gd where shopping centres r walkable distance n other restaurants r across the road. Rooms r big enough to accomadate myself n 3 kids. Room service is very gd. To me, one of the best hotels to stay n value for money. The only setback - no swimmingpool. But its ok due to our daily outdoor trips. We enjoyed everything in cebu."
Show more
Avg price per night
$ 118
See all
Diamond Suites & Residences
Cebu City,S&R New York Style Pizza - View on map
"we paid less than 3000 pesos for a night's stay here. since it was relatively cheap, i didnt expect too much from the hotel. but when we checked in, we were pleasantly surprised to see that the rooms were new and clean, the staff were friendly and helpful and finally the breakfast buffet they served was delicious. it was definitely worth what i paid for or maybe even more! another nice feature of this hotel is its close proximity to the ayala mall. the mall is just a 5 minute walk or even less from the hotel. "
Show more
See all
RedDoorz near Landers Superstore Cebu City - Quarantine Hotel
Cebu City,S&R New York Style Pizza - View on map
"No matter what the price of a facility is, I think it is still possible to keep it clean. The price of the room was very affordable especially within the area. But it seems that the bathroom was not kept very well. Small hairs were everywhere, and was on the shower area. The shower head was not at its best. The linens were also somewhat itchy, but they seemed clean though. Everything else was ok. The staff was very friendly and helpful. The lobby was beautiful."
Show more
See all
Golden Prince Hotel & Suites
Cebu City,S&R New York Style Pizza - View on map
"We stood there twice while on a travel through Cebu. We tried a lot of hotels in the Philippines and this is really the first one which offers a good cost-benefit-ratio even if you´ll book it directly through the Hotel - you´ll get a clean room, a really good western-style breakfast and a good service. The room is spacious with a small kitchen unit and lovely equipped. All in all it is quiet even it lies on a main street. The check-in procedure was fast and easy, the front desk personal is friendly. The breakfast was amazing - you get the typical philippine breakfast but as well pancakes, fruits, coconut/rice cookies, cereals, coffee, fresh milk, swiss chocolate, a fancy creation from the cook (which differs the days - once it was a pumpkin-biscuit niblet or a lion-egg). The staff is super friendly and it is pleasant to eat there. The location ist great - though you have to walk only 4 minutes to the Ayala Centre where you could go shopping or dining."
Show more
See all
Red Planet Cebu
Cebu City,S&R New York Style Pizza - View on map
"I love this hotel, it is unbeatable when it compes to quality and price if You book withAgoda, because then all the add-ons ar included, like towels, wifi, aircon and tv. But the price is not the only pros for this hotel, it is new, look modern, clean and the service is great. When I lost my wifi password I got new because they had copy of my previous passwords, they also stored our luggage last day. outside there is a SevenEleven just at the doorstep where you can get everything you need, also some fastfood. Just 2-3 minutes walk there is Ayala malls with all kind of restaurands and shopping. We rented a scooter for couples of days so it is good that the hotel also provide secure indoor parking. the wifi is fast and stable, all kind of channels, the bed is very comfertable and the shower is really great with hot water, good presure. I will definitly stay here again and recomennd it to all that want a good nice place to stay and dont care about that the rooms are little small and it is not a resort style hotel"
Show more
Find the Perfect Type of Accommodation
---
More about S&R New York Style Pizza
S&R New York Style Pizza is just one of Cebu's many landmarks to discover. Agoda.com exclusively offers the lowest rates at hotels near popular Restaurants and Cafes. Find the perfect accommodation near S&R New York Style Pizza, with choices like the CLM Dormitory and the Radisson Blu Cebu.

Reservations for hotels close to S&R New York Style Pizza are made easy via Agoda.com's secure on-line booking form. Convenient search tools and informative hotel pages make finding Cebu hotels easy. With availability in over 22,000 cities worldwide, more travelers today are choosing Agoda.com to search for hotels near attractions like S&R New York Style Pizza.