10 best hotels near Phangan Muay Thai and Fitness Gym
Our top picks
Lowest price first
Nearest to
Best reviewed
Featured Hotels
---
Normally everybody first looks for a beach-resort at this island, BUT after coming here for 10 years now i can truely say that sadly most of them are old, run down, many things damaged, dirty or overpriced if they are in condition. Tje owners do not really care about them cause most people come here are young party-people or backpackers coming for just a few days for t...
---
Very friendly staff and nice, clean rooms! If you stay on Koh Phangan for a short time this is the place you wanna go. Good prices for a clean, safe and modern room! About 7 minutes walk to the pier. Very friendly and open minded/open hearted personal!
---
Bike Rental: Where is the best place to rent a bike here? If you stay at this hotel or nearby, get the bike from this shop 'P... NEE'. The hotel will assist you. Main reason, the owner such a very good & honest guy. Age around late 70s to early 80s. An old man with a lot of stories to tell and a lot of experiences to share. This uncle can speak english fluently too. He...
---
Had a lovely 3 night stay at Baan Busaba during the busy full moon period. Room was good value for money and most importantly clean. The staff were extremely nice and helpful. Great location away from the hustle bustle in the day with the main beach parties only a 100 baht, 15 min taxi ride away. Having partied hard during the full moon party we were a little hazy ...
---
Our stay at Angkana was really amazing. The bungalows are perfectly designed, right by the beach, and the atmosphere is very relaxing and peaceful even when the place is full. You really feel alone on a private island! The location is great, in the middle of everything and Florence can book a scooter for you at a very cheap price in order to get around the island. Flor...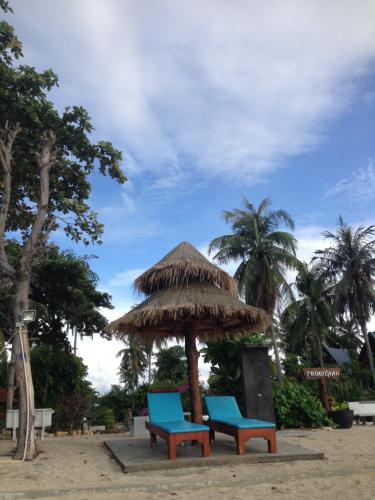 ---
We spent two days at Tropicana Resort, and we really enjoyed our stay. We got an ocean view bungalow which had a huge fan over our bed, and also an air-conditioner, but actulally most of the time the fan was more than enough. The sea was literally 10 meters away from our doorstep, we could hear the waves from our room at night. There is also a hammock on the terrace i...
---
The hotel was in the best location for us, as it was centrally located and you can easily visit the whole island with short motorbike trips. The service was very good but I expected something more for the price of the room (I paid a few hundreds baht more than usual, but the room wasn't any better than other cheaper hotels I've used before)
Alessandro
, United Kingdom
---
We stayed here for the full moon party and it is located in Bantaii. This hotel was really close to the Bantaii centre and close to the shops and the pier. The rooms itself was pretty big and it accommodated all of us and it fit us all okay for the full moon party. Easy to find and all the tuk tuks know of the place. The service was okay and the staff was quite hel...
---
In and around Phangan Muay Thai and Fitness Gym
---
Find the Perfect Type of Accommodation
---
More about Phangan Muay Thai and Fitness Gym
Koh Phangan is famous for popular attractions like Koh Phangan Muay Thai & Fitness Gym. Find super low rates only on Agoda.com when booking hotels near Sports Venues. Find the perfect accommodation near Koh Phangan Muay Thai & Fitness Gym, with choices like the The Beach Village and the Awe Resort.

Agoda.com's secure on-line booking form provides a simple way of booking accommodation close to Koh Phangan Muay Thai & Fitness Gym. Hotels are easy to review via our Koh Phangan city page, equipped with convenient search tools and extensive hotel information. With more than 2 million customer reviews, more travelers are choosing Agoda.com to book hotels near Koh Phangan Muay Thai & Fitness Gym.