10 best hotels near Ee Feng Gu Bee Farm
Our top picks
Lowest price first
Nearest to
Best reviewed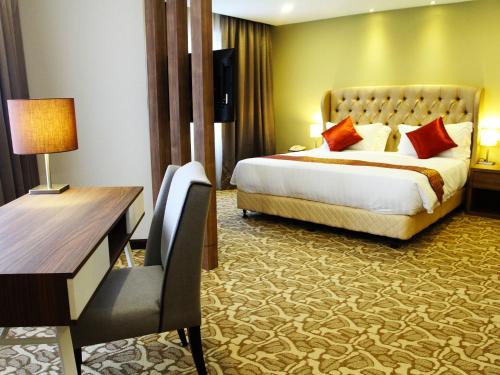 See all
Copthorne Cameron Highlands
Brinchang,Ee Feng Gu Bee Farm - View on map
"Great location with a very nice view. Walking distance to Kea Farm Market, Ee Feng Gu Bee Farm, EQ Strawberry Farm (Remember to buy their mushroom), Jin Jin Steamboat Restaurant and etc. Great for comfy sleep. Staff are friendly. The only Cons is my wife complaint room carpet is slightly smelly but I am ok with it."
Show more
See all
Kea Garden Guest House
Brinchang,Ee Feng Gu Bee Farm - View on map
"The first thing that made me suprise is the garden in front of the room, big and beautiful design with strawberry, roses and grapes, very lovely view even rainning, cause they have roofs for the whole garden. The guesthouse location is inside the market street, very interesting from morning still afternoon. And best thing ever is the location is took us 5 minutes walk to the strawberry farm, butterfly farm, rose & orchids farm and last once is bee farm. Wonderful !!! We have 6 girls so we book 2 triple rooms with very good price. The owner of the guesthouse such a great and kind man who helped us on the they we checked out, We couldn't take any taxi due to high season that made traffic jam, so he called his friend and his son to take us to the bus station. We're very appreciate his kindness. We're highly recommend this guesthouse for anyone who would love to visit cameron highland."
Show more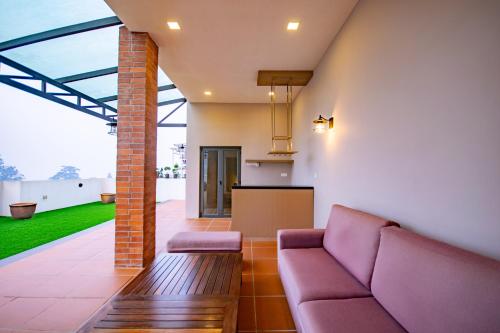 See all
Nova Highlands Hotel
Brinchang,Ee Feng Gu Bee Farm - View on map
"Hotel located near many attractions in Cameron Highlands. There's minimal time spent driving especially traffic build up along the single road running through Brichang. Near bee farm, vegetable farm, Strawberries farm, BOH tea plantation, water cress farm. Room wise - is clean. But towel provided seems not to be 100% cotton, cannot absorb water when used. Breakfast is simple but can be filling (fried rice & stirred fried noodle). I got a 2 beds room - has reasonable space remaining. "
Show more
See all
PLAY at Palas Horizon Kea Farm
Brinchang,Ee Feng Gu Bee Farm - View on map
"really nice apartment, we got a big end-unit, is a dual key unit, 3 bedrooms (queen + queen + single) + 1 extra room u can bring your own air mattress and sleep there, 3 bathrooms with water heater, lotsa space, lovely view of valley with sunrise, lovely constant breeze. location was great...just turn off the road to Boh Plantation/Gunung Brinchang. near Arandanova with many shops (even Mr DIY), near Kea Farm, Boh, Gunung Brinchang. best place to stay in camerons, away from the congestion of town, environment great. if we come back to stay in camerons as a small group, then this is the place to stay again. only renting a villa wld be better (but pay much more lah). this place is a highly recommended place. some suggestions to operator: add a microwave oven and Wi-Fi. extra sofa seats at the living room wld be nice. and maybe a couple of chairs and a small table at the balcony wld be lovely. then the place wld be perfect. oh and the Spa-pool facility was dirty, but thats not an important facility. some touch up work being done on the building since this is a newly opened place. maybe some construction noise but not too bad. the free range chickens were more noticable."
Show more
See all
Cameron Nova Highlands Resort and Residence
Brinchang,Ee Feng Gu Bee Farm - View on map
"1. Location was good and convenient. Shopping mall, 7-11 and Watson are just on the ground floor. BOH tea farm was opposite of the hotel, and the famous JinJin Steamboat only beside which is around 5min of walking distance. Ground floor have KTV incase feel boring on nighttime. Bee farm, rose garden and strawberry farm are all around the hotel. It's take around 5-10mins by car. 2. The room was clean and come with good condition for all facilities. We booked a studio room, come with a kitchen and living area, a big and comfortable room with the mountain view. It is worth for the value. Any requirements request with the PIC through Whatsapp also reply immediately. Thanks for the service."
Show more
See all
See all
Cameron Nova Highlands Resorts & Residence
Brinchang,Ee Feng Gu Bee Farm - View on map
"There is no towels when we checked in. Told the owner and he respond immediately to get us the towel. Good service. Thank you. This room also near to lots of attractions which is a big bonus. We went to Ee Feng Gu bee farm (free admission), EQ strawberry farm (plucking your own strawberry is fun, and the strawberry here is all organic and very sweet! Must visit!), Sungai Palas Boh tea plantations, and also Pasar Pagi Kea farm. Parking is available at the basement of the building. We thought we need to pay for RM4 for each entry but end up we told the guard we booked through agoda homes, they let us exit without paying. The only problem is that the bedroom is a bit stuffy during the night. There is no ceiling fan inside the room but only stand fan. But the stand fan is noisy and can only fan a small part of the room. Opening up the balcony door should help the ventilation but the neighbouring balcony is too near so we scare someone might climb over to our room. "
Show more
See all
See all
See all
Find the Perfect Type of Accommodation
---
More about Ee Feng Gu Bee Farm
Ee Feng Gu Honeybee Farm is just one of the fantastic sites in Cameron Highlands. With the lowest hotel rates in town, Agoda.com offers many lodging options a short distance away from Attractions. A variety of hotels can be found near Ee Feng Gu Honeybee Farm, such as Hotel Tudor Home Inn and Harvest Green Apartment @ Crown Imperial Court.

Through Agoda.com's secure on-line booking form, reservations are made easy for hotels in the neighborhood of Ee Feng Gu Honeybee Farm. The convenient search tools and the extensive hotel information on the Cameron Highlands city page make it easy to find available hotels. With more than 150,000 hotels worldwide, it's easy to find hotels on Agoda.com near points of interests like Ee Feng Gu Honeybee Farm.