10 best hotels near Boncafe Raya Kupang Indah
Our top picks
Lowest price first
Nearest to
Best reviewed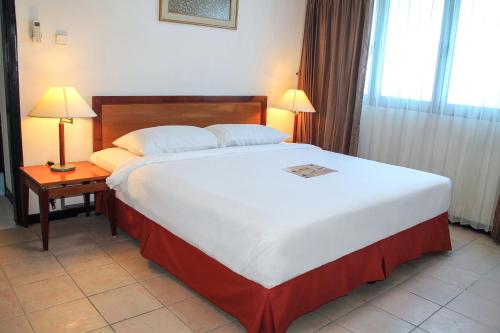 See all
Verwood Hotel and Serviced Residence
Surabaya Center,Boncafe Raya Kupang Indah - View on map
"Although this hotel was built in the 90's, it has an outstanding maintenance.. The hotel has a good value as well, located near food festivals all over Kupang Indah.. In conclusion, Somerset hotel has a convenient location and amenities.. "
Show more
See all
Avg price per night
$ 145
See all
Fairfield by Marriott Surabaya
Surabaya Center,Boncafe Raya Kupang Indah - View on map
"The building is new. Clean. The design is not as I expected since the hotel have "Marriott" name on its title. The design is more like for 3 star hotel. Not sophisticated at all. Bad garbage smell in the basement in the parking lot. I asked to borrow an iron, but they said they didnt have enough. And I booked for the next day to make sure I get the iron, after I complained then they got it for me. I understand it is not five star hotel which they always have iron and iron board in room. But at least they should have more for guests to use. And the service is slow. The staff seems working slowly, especially in reception area. And they always have only one receptionist and make the guests keep waiting. Breakfast is bad. Everything's cold. I prefer have my breakfast outside."
Show more
See all
HARRIS Hotel & Conventions Bundaran Satelit Surabaya
Surabaya Center,Boncafe Raya Kupang Indah - View on map
"Staff here are all very young and nice! Hotel smell so good with a standard orange odor . Everything is fine here , I tried lots of hotels in Surabaya, even the 5 stars one , water temperature also is a problem, but this hotel is very new, water is hot enough and water pressure is good for shower too! I will highly recommend this hotel to you if you just want a clean and fresh environment to stay!"
Show more
See all
2BR Grand Sungkono Lagoon KIDZANIA Surabaya
Surabaya Center,Boncafe Raya Kupang Indah - View on map
"The location is nice, close to Ciputra world and literally seconds from nearest highway entry. The host also helpful. Unfortunately we can't meet him due to our schedule but he responds well to our request. The apartment itself is a 2 bedroom unit complete with high speed internet and cable tv. Ordering Blue Bird, Grab or Go-car is very easy and the location is well known to the drivers. However, the reception desk are not allowed/can't order them for you so make sure you have the necessary apps in your phone Suggestion to the host : 1. Providing towel will be a nice addition to your property amenities. 2. My wife left a small makeup stain on the pillow and blanket since we're in Surabaya for our friend wedding. The host charge us with laundry fee of IDR 100,000 or ~USD 7.00 (deducted from our security deposit). You might consider to waive the laundry charges for such stain. Overall the property is suitable for group or family travelers. "
Show more
See all
Deka Hotel
Dukuh Pakis,Boncafe Raya Kupang Indah - View on map
"Very Clean budget hotel"
See all
Sumi Hotel Surabaya
Surabaya Center,Boncafe Raya Kupang Indah - View on map
"With under 200k price I got a good quality rooms that super comfy."
See all
Citihub Hotel @Mayjen
Surabaya Center,Boncafe Raya Kupang Indah - View on map
"Serve by Ms. PUPUT and I was stay in hotel for 3 days, 2 nights. And here is my pros and cons : Pros: - Cheap hotel, 250k rupiah ++ are worth it - Clean, very clean - Discipline, hotel staff are often remind me about not to smoke in the room. And that's way they hold 200k rupiah for deposit - I get free breakfast for ramadhan month Cons : - Limited water heater - If you need toiletries (towel) or praying tools, you have to rent - Long time needed for check out time - Staff hotel are not fast response about parking lot Warm regards for Ms. PUPUT and others. Will pick this hotel again if I go back to Indonesia again. Thanks :)"
Show more
See all
Two BR Grand Sungkono Lagoon Tower Venetian
Surabaya Center,Boncafe Raya Kupang Indah - View on map
"Good location for business and family trip ( 2 big bedroom in 1 unit apt - exactly same as photo, the apt have completed facility with gym & swimming pool - sadly i didnt have time to use the facility). The apt close to surabaya Tol (highway), close to many big mall (Golden city mall, Ciputra World, Pakuwon Mall - and sadly again i didnt have time for shopping during my business), easy to find food near apt (Mc Donald only view step away - i got my supper there). The host really nice and helpful even we only talk via chat, she help me a lot (i came a bit late nite/late check in) hope we can meet next time and definitely will stay here again for my next trip in surabaya. Recommended! "
Show more
See all
More about Boncafe Raya Kupang Indah
Places such as Boncafe Raya Kupang Indah attract travelers to Surabaya. Secure the lowest rates for your trip with Agoda.com at any hotel near Restaurants and Cafes. Find the perfect accommodation near Boncafe Raya Kupang Indah, with choices like the @thome and the Shangri-La Hotel.

Agoda.com's secure on-line booking form provides a simple way of booking accommodation close to Boncafe Raya Kupang Indah. The convenient search tools and the extensive hotel information on the Surabaya city page make it easy to find available hotels. With more than 2 million customer reviews, more travelers are choosing Agoda.com to book hotels near Boncafe Raya Kupang Indah.